About Us

Land & Building

Infrastructure

Labs

Library

Class Rooms

Others

Our Staff

Reconization & Affilation

Our Programs

Students

Courses

Admission

Academic Calender
Bhajan Sandhya at college premises on 20th January 2013.
Seminar on 17th january2013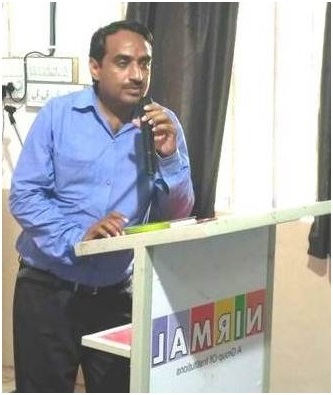 Principal Dr. Manoj Sharma
Our society plays a vital and crucial rolein the process of becoming a complete human from a child.During the journey , one gets so much from one's surrounding to become self-sufficient. At this stage of life , it is time to pay back to the society. This repayment of social debt is done in many forms & ways by choosing different carriers , professions and the quality of education in various fields is one of the best ways to achieve the goal.
It is our strong belief and conviction that a 'Guru' can be a carrier of values which are grossly lacking in our present society . At Nirmal College, Hindaun City, it is our sincere effort and endeavor to give quality in teaching of various subjects of atrs, commerce, science and equip the students with the power of knowledge based on our cultural, moral and social ethics.
I hope that the students from our college will be a catalyst of social transformation because they will be working at the roots of the system. Our best wishes are due to all of you who have chosen this college as student and staff to achieve the goal in the field of scientist, environmentalist , teachers, businessman and a good human in the society.
All of us at Nirmal College, Hindaun City, wish you all the success in your life.